History of the Brown Swiss Breed
Probably the oldest of the dairy breeds, Brown Swiss are descended from cattle used in the valleys and mountain slopes of Switzerland since before historic records began. It was here that the transmitting ability of certain breed characteristics became so firmly established that they mark it to this day.
The first Brown Swiss in Canada were imported to the Eastern townships of Quebec from the United States in 1888. Although considered a dual-purpose breed (dairy and beef) in Europe, pioneer North American breeders recognized their great potential for milk production and concentrated their efforts for improvement in the direction of developing a dairy cow. Brown Swiss are now found throughout Canada.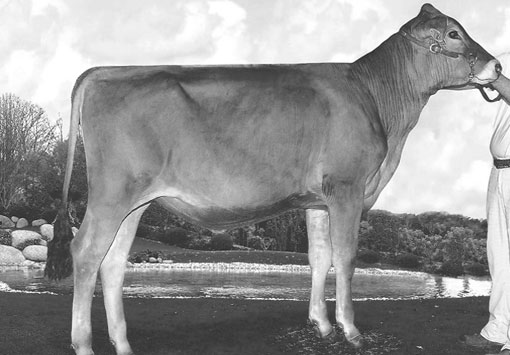 The original characteristics including size, ruggedness, strong sound feet and legs that wear, quality udders that last, and thriftiness and gain-ability have been maintained and improved. These quiet, docile tempered cows are ideally suited for either the family-sized farm or the large commercial operation in any climate. Brown Swiss, being hardy and rugged, perform well in all climates and at all altitudes.
Brown Swiss are found throughout Canada presently and many Canadian animals are sold to foreign buyers. The beef aspect of the big brown cow was developed in the late 1960s and early 1970s during the "exotic" beef rush. These beef focused animals are known as Braunvieh. Braunvieh is a German term which translates to "brown cattle". Since they were of the same original genetic stock as the Brown Swiss, they were entered into the Brown Swiss herd book.
The Braunvieh breeders have long suffered under the shadow of their dairy counterparts, but have sales to South American markets equalling the demand for the Brown Swiss. The majority of the Braunvieh bloodlines here in Canada are pure Braunvieh, in their breeding programs they have used imported semen from Switzerland and imported several bulls. This Association is very unique and gives recognition to both aspects of a dual-purpose breed that has been selectively and separately bred for dairy (Brown Swiss) and beef (Braunvieh) in North America for over one hundred years. In 1996, the membership passed an amendment to change the name of the association to "The Canadian Brown Swiss and Braunvieh Association". In this manner the Association gives recognition to the two herd books that it maintains. Because the Brown Swiss and Braunvieh are genetically the same, only one association is allowed. The Canadian government controls this through the "Animal Pedigree Act". The purpose of this act is to (a) promote breed improvement and (b) to protect persons who raise and purchase animals by providing for the establishment of animal pedigree associations that are authorized to register and identify animals that, in the opinion of the Minister of Agriculture, have significant value.
Within the Canadian Association we have 5 provincial associations. The heaviest population of the Brown Swiss is mainly in Ontario and Quebec, with Manitoba starting to make a significant increase in the interest and sale of Brown Swiss to other breeds. The Braunvieh herds are mainly found in Alberta with some increase in numbers occurring in Ontario.
At present… Brown Swiss/Braunvieh interests continue to impress us. Promotional information is being demanded on a weekly basis. In 1998, there were 315 members registering a total of 1938 animals and transferring 904.
Just to sum up, Brown Swiss, the unique breed excelling in both dairy, Brown Swiss, and beef, Braunvieh. Look for high profitable production, long productive lives, quiet, docile temperament, a wide range of adaptability, durability unexcelled and rapid growth. What more could we ask for?